CAMP HOPE - Village Banna
HOPE FOUNDATION is organising his annual camp on 7th & 8th December. The location of camp is village Banna.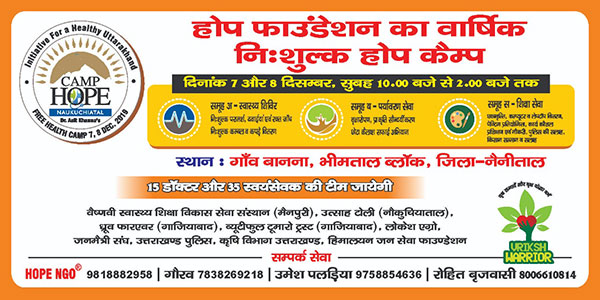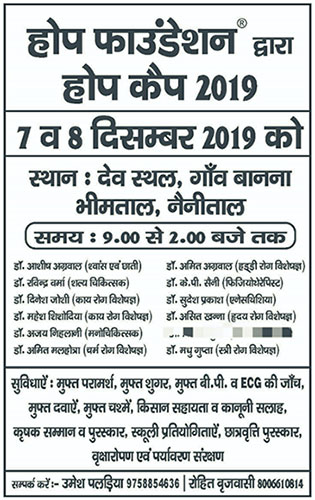 For my NGOs HOPE CAMP 2019 on 7th & 8th Dec 2019 in Nainital we have arranged... 12 doctors, 50 voulnteers. Expecting approx. 2000 patients. Free medicines, free basic blood tests, free eye testing, health lectures, 400 free spectacles, 500 free blankets. Participating 5 schools, approx 300 schoolkids, 300 sweaters, 300 warm socks, 300 deworming tablets, 300 pens/crayons/sheets for drawing competition, 300 certificates and winner trophies, 2 scholarships of RS. 1100/- each. Shawls and Awards for local innovative farmers & NGOs, 25 laptops for free distribution to deserving students and innovative farmers. Hundreds of clothes for distribution to poor. 50 Devdaar trees plantation at local lake, with bamboo tree guards. 20 cement benches, police/legal assistance camp, training on CPR(rescue/reuscitation), farmers assistance camp and more....
| | List of Doctors at Camp | | | | | | |
| --- | --- | --- | --- | --- | --- | --- | --- |
| 1 | Dr. Mendiratta (Physician) | 5 | Dr. Ajay Nihalani (Psychiatrist) | 9 | Dr. Amit Agarwal (Ortho.) | 13 | Dr. Asit Khanna (Cardio.) |
| 2 | Dr. Mendiratta (Pedia.) | 6 | Dr. Bindiya Gupta (Gynae.) | 10 | Dr. K P Saini (Physio) | | |
| 3 | Dr. Mahesh Sisodiya (Physician) | 7 | Dr. Smita Jain (Gynae.) | 11 | Dr. Madhu Gupta (Gynae) | | |
| 4 | Dr. Pankaj Verma (Psychiatrist) | 8 | Dr. Aamit Malhotra (Skin) | 12 | Dr. Sudesh Prakash (Anaesthesia) | | |
Tentavi List of Volunteers
Sumit
Rakesh
Ravi Tiwari
Dinesh Singh
Krishna Sharma
Vinay
Alankrit
Harender Nagar
Sushma Singh
Irfan
Neeraj Batla
Subodh
Abhinav Jain
Shoaib
Ajay Jadon
Mallika Rawal
Amit Khanna
Mukul Tyagi
Vinay Pratap
Jayant
Aman Khanna
Keshav Gaur
Hari Patkar
Siddharth Rawal
Pallavi Sinha